History

First dog in Visakoivun Kennel was a Shih Tzu bitch FIN CH Capella Philomena , who arrived into our house in spring 1970. Our first Basenji was INT & NORD CH Azenda Gilt Edge whom Margaret Christy-Davies kindly consented to send to us while it was expecting puppies in autumn 1973. "Takke" had seven puppies, which began Visakoivun Basenjis' "conquest of Finland and the rest of the world".
In 1986 Visakoivun Kennel had its first Cavalier FIN & EST CH Anncourt Belly Dancer, whose great-grandson's daughter Hamingjor Nolana lived long life with us and was 14,7 years old when she past away last year.
In 1981 Visakoivun Kennel was awarded Vuolasvirta-prize for work in raising Basenjis – the prize number is 44.
Visakoivun Kennel has got a new Vuolasvirta-prize about bichon havanais breeding. The prize number is 751.
During these years Visakoivu Kennel has gone through happiness as well as sorrow, with both losses and magnificent victories. All in all, the balance is strongly positive, and we look to the future with trust, believing that this hobby among dogs still brings wonderful substance to our lives.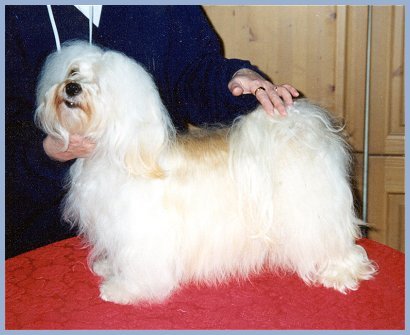 INT & FIN & LTU & RUS & EST & BLR &
S & LV & DK & SVA CH LTUW-00
Visakoivun Tiny One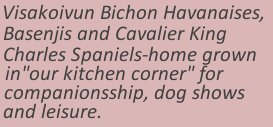 I
n breeding, we strive to bring up them with good health, excellent character and beautiful appearance. For our puppies we are seeking homes that are active and interested in dog shows, but the most important criterion in choosing a home is that good care will be taken of the dog.
KANS & FIN & S & RUS & EST & LV & LTU & BLR MVA BALTV-97
Visakoivun Joya Unica and Kirsti Koivu



Kennel Visakoivun got Finnish Dog Breeders' Associations' breeder award in February 2006


Visakoivun Bichon Havanais have so far gained following titles:

13 INT CHs, 3 MULTI CHs, 14 FIN CHs, 6 RUS CHs, 2 S CHs, 1 DK CH, 6 EST CHs, 11 LTU CHs, 8 LV CHs, 3 UKR CH, 5 BLR CHs, 1 BLR JUN CH, 2 SVN CH, 1 AM CH, 1 ROM CH, 1 FINJW, 5 BALTWs, 8 LTUWs, 6 LVWs, 1 LVJW, 3 NevskyWs, 1 UKRW, and 2 BLRWs.



back

You may not copy or use any of the content without the owner's permission

Copyright © Visakoivun kennel
Webbmaster Bigi