Joya Unica got only one one bitch puppy with Bellezza's Almondeye Amory, and we really had no choice but to keep Visakoivun Tiny One with us – we really could not give away the only baby.
Also Venusta's daughter Visakoivun Kilo de Alegria is living with us, but unfortunately her career in dog shows was cut short by a paw injury received from a fall when she was still a puppy.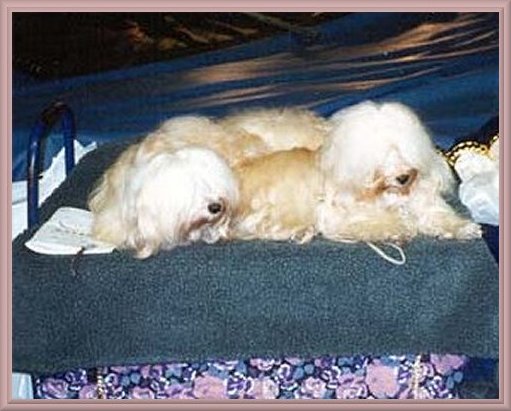 Visakoivu Kennel's breeder
s group at Minsk in November 25, 2000: BIS 1 (winner on Saturday). In front Joya Unica of Visakoivu & Tiny One, with Onda Ancarada in the back.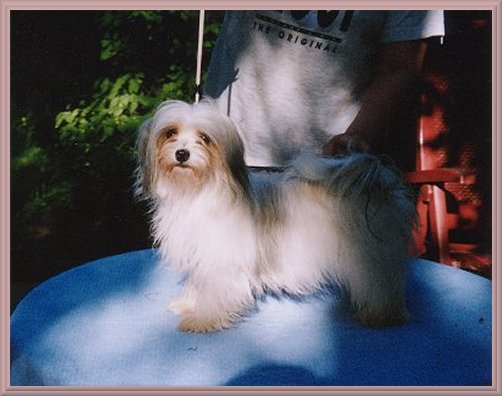 At home we have also INT&LTU&UKR&EST&LV CH, LVW-05 Pillowtalk's Mui Vita
("Marlie"), co-owned with Taru Vainio.
Also handsome males Visakoivun Zurriago de Oro "Ville", Visakoivun Yo Soy Querido "Rido", and beautiful bitches Visakoivun Gloria Gloriosa "Glory", and Visakoivun Habia Una Vez "Hippu" are part of Visakoivun pack.October 1, 2004 Pillowtalk's Berry Bear ("Bearsi") travelled back to Germany with Finnish & Estonian Champion titles as souveniers. He is greatly missed in our family! Two days later we got two handsome boys from Germany to comfort us: INT CH, LTUW-05, LVW-05 Pillowtalk's Mr. Milky-Way ("Max") and Pillowtalk's Schneeman ("Manni"). Max is white/sable and Manni almost pure white.Brand new international champion Max and Manni returned back to Germany June 21st, 2006. On April 23rd, 2006 we got two new boys to fill the emply space: Pillowtalk's Leon and Pillowtalk's Gold Stern. The latter will stay with us for good, Leon will return to Germany, but while he's in Finland he's available for stud for health-tested bitches as well as "Paulo". Both of the boys have nice health and show records.The newest additions to our pack are Liveoak's Goin' South ("Henry") and Visakoivun X-te Prinzessin ("Essi"). They are both born in 2007.